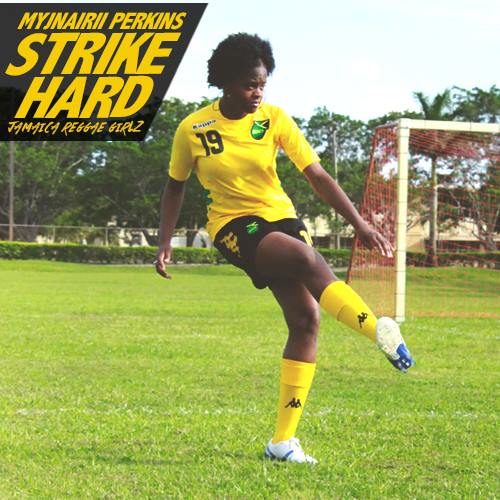 24 Jun

Jamaica women's football: how social media is helping them create history

No Caribbean team has ever qualified for a Women's World Cup. Enter the Reggae Girlz.

After a six year hiatus, Jamaica's women made an impressive return to competitive action with 14-0 and 7-0 wins over St Lucia and Dominican Republic in crucial World Cup qualifiers. That leads them to the next stage of qualification: an eight-team Caribbean tournament in Trinidad and Tobago in August, including Antigua & Barbuda, Bermuda, Martinique, Haiti and the hosts.

For a team that hadn't played a competitive game in six years, who are having to fund their own way through the qualification process, and who are without a world ranking, the Reggae Girlz performances have turned a few heads. Realising that their showing on the pitch might not be enough to carry them to Canada next summer, the staff behind the team got to work on a social media campaign to tell the world about their historic attempt.

Jamaica have utilised platforms like Twitter, Instagram and Facebook to promote their brand. For any successful social media campaign a hashtag has become the norm to group all of the various articles, photos and conversations of a particular topic together in one location. So if you type #StrikeHard into Twitter, Facebook or Instagram you'll see that the Reggae Girlz's history-making pursuit has some esteemed supporters and some far beyond the Caribbean Sea.

The world's fastest man:
Big up @usainbolt for autographing a shirt for our auction! #StrikeHard pic.twitter.com/ShJ1L48DV6

— ReggaeGirlzJA (@ReggaeGirlzJA) May 1, 2014
World-famous record company:
Congrats @ReggaeGirlzJA on a 14- 0 victory against St Lucia! One step closer to the @WomensWorldCup #StrikeHard pic.twitter.com/k6gYdcUCiL

— Island Records (@islandrecordsuk) June 21, 2014
Women's football website based in England:
http://t.co/QZBJ6xq7zo Help Jamaica's @ReggaeGirlzJA get to the @FIFAWWC in 2015 #strikehard

— she's on the ball (@ShesOnTheBall) May 20, 2014
On Facebook the Reggae Girlz offer supporters the chance to familiarise themselves with the players,  watch behind-the-scenes videos of training camps and showcase messages of support from footballing legends:
https://www.facebook.com/photo.php?v=334158106709427&set=vb.320541831404388&type=2&theater
Alongside the social media campaign, Jamaica have also assigned the support of Jamaican legend Bob Marley's daughter Cedella. The entrepreneur and activist is a national hero on the Caribbean island and has offered financial support as well as used her profile to promote the team in the media. National newspapers Jamaica Observer and The Gleaner are following the story and so too are English paper The Guardian and BBC World Service radio, all intrigued by Marley's involvement with the team.
"Football is a popular sport in Jamaica and also a significant part in my life," Marley told Jamaica Observer back in March when she joined the campaign as ambassador. "I used to be on the sideline watching and cheering my father playing on the field, so you could see that football is in the blood. The girls need funding, I can get funding. They need proper training and proper nutrients, which I am here for. I am happy to be their ambassador and to have a voice for them and to use my resources to get whatever help they need," she added. With Marley on board, the Reggae Girlz have the support of her numerous international businesses and their customers – a vital component of building their public profile.
Unlike the bigger, more established women's football nations, who have populations of tens of millions and talent pools of hundreds of thousands of people, Jamaica remains underfunded. With little to no financial support from the Jamaican Football Federation, they've started a crowd funding campaign which has generated less than a quarter of their total target. But for now, they have a national celebrity on their side and they are performing on the pitch.
I envisage the team's profile will rocket if they make it past their next test in Trinidad & Tobago and onto the eight team CONCACAF regional qualification tournament in October. They'll be competing against the likes of the world's number one side USA so success in front of the world's media will certainly drum up interest. They would undoubtedly be underdogs of the tournament, but who doesn't love it when an underdog beats a favourite?
[youtube https://www.youtube.com/watch?v=VgtO_oaPHq8]
The Reggae Girlz are raising money for travel, accommodation and training costs using a crowd funding website.