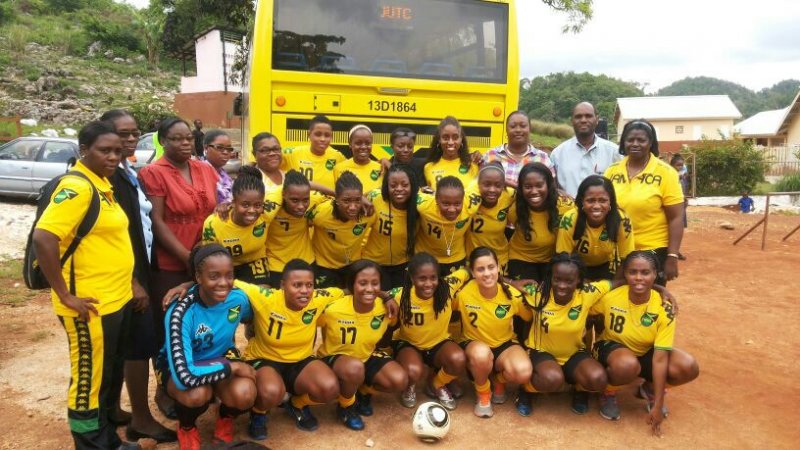 10 Jun

Can the Reggae Girlz put Jamaica on the football map?

The island of Jamaica has long been known for punching above its weight. In a country of just 2.9 million people, it has produced global sporting icons in Usain Bolt, Merlene Ottey and Shelley-Ann Fraser-Pryce.

But when it comes to football, Jamaica is yet to make its mark on the world. In 2008, Jamaica had no senior women's team. This year, they're aiming to be the first Caribbean side to qualify for a Women's World Cup. But to get anywhere close to Canada next summer, they'll need money. And lots of it. The Jamaican Football Federation invests little to no finance in the women's senior team, so they've had to start an internet campaign to raise funds.

My grandparents are from Jamaica so it's always been a country close to my heart. I find it surprising that a team with so much talent – they're ranked fourth in the Caribbean region, but have no world ranking – are forced to use a crowd funding website to ensure they can afford kit, food and transportation. Similarly as with the UK, football is seen as a male pastime and netball is thought to be a more fitting activity for women and girls (the Jamaican netball team is one of the best in the world and ranked fourth).
Thank you House of Marley, the shirts are so awesome. We really appreciate them. #strikehard http://t.co/BKtDi3sOoD

— Sherona Forrester (@mammarona) April 25, 2014
But the Reggae Girlz have a secret weapon: Cedella Marley. Entrepreneur, activist, national celebrity and eldest daughter to the late legendary Bob. Cedalla is the team's ambassador, which it's hoped will give the fundraising effort some much needed pizazz.
Jamaica kick off their qualification battle in a tournament in the Dominican Republic, assuming they have enough money to fund the trip, where they will play St. Lucia on 20th June and the hosts two days later. Two wins guarantees them a place in the grand finale tournament in Trinidad and Tobago in August. Success in that competition will progress them to their final and greatest stepping stone: the eight-team CONCACAF tournament in the United States, where four teams have the chance of securing their place at Canada 2015.
Admittedly, Jamaica have a monumental task on their hands in qualifying for the World Cup, both on and off the pitch. They'll continuously be up against teams with much more experience, better resources and more money. But it's not impossible. Jamaica is a nation that has achieved much global sporting success, whether in athletics, netball or cricket, so it's not out of the question to back the Reggae Girlz to put Jamaica on the world footballing map too.
So far the Reggae Girlz has raised $155,365 of their $750,000 target. Donations are being made via their GoFundMe page.
The Reggae Girl life…Train Hard… #StrikeHard pic.twitter.com/Sy7G8PCK3k

— ReggaeGirlzJA (@ReggaeGirlzJA) June 5, 2014