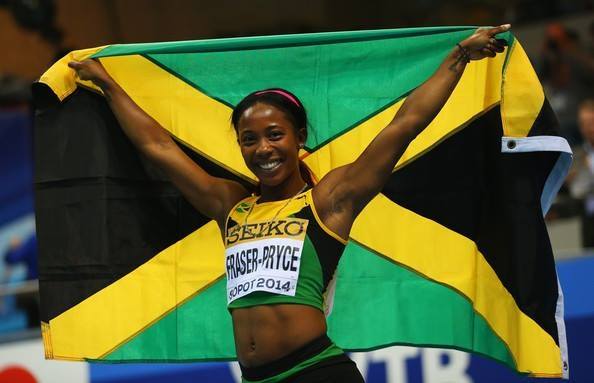 06 May

The other Jamaican 'living legend' of athletics

'Living legend' is a term reserved for a particular man in the world of athletics: Usain Bolt. The six-time Olympic champion declared himself so after his sprinting clean sweep at the 2012 Olympics.

But, should the term be opened up to another Jamaican athlete? A sprinter who was the first Jamaican woman to win an Olympic 100m title when she swept aside her rivals at the 2008 Games. And then went on to defend her title in London four years later. She is also the first woman to ever hold the world 60m, 100m, 200m and 4x100m titles at the same time.

Shelly-Ann Fraser-Pryce has been a very successful sprinter since her first international medal as a young woman at the Caribbean's Carifta Games in 2005. She won a bronze medal in the 100m, thus proving her pedigree from as young as 18. Two years later she helped the Jamaican relay team to a silver medal at the world championships, racing for the team in the 4x100m heats.

It seems that 2008 was the year which put the athlete nicknamed the 'pocket rocket' on course for sprinting domination. After placing second at the Jamaican national trials, ahead of the more experienced Veronica Campbell-Brown, there were whispers that Fraser-Pryce could be a medal contender at the Beijing Olympics. Despite being a 21-year-old rookie and lacking in public profile, Fraser-Pryce was picked for her first Olympic Games. In the form of her life, she won each of her heats in progressively quicker times before leading a Jamaica one-two-three in the final. Fraser-Pryce, famed for her explosive starts and contagious smile, had proved her talent on the sporting world's biggest stage. Now that the athletics community knew who she was, and her opponents knew to look out for the five-foot-three-inch tall racer, could she remain on top? Well, yes. A year after her Olympic heroics Fraser-Pryce won world 100m and 4x100m titles.
"I don't think there is any question that where championships are concerned, that she is certainly the greatest female sprinter in the world in history, certainly in the 100m," Fraser-Pryce's coach Stephen Francis, as quoted in The Voice.
But the mark of any champion is how well they bounce back from poor form and, again, Fraser-Pryce has proven she has that resolve. The Jamaican tested positive for a banned narcotic in 2010, despite the world drugs governing body declaring it was not performance-enhancing or a masking agent, and was given a six-month ban. When she returned for the 2011 season, her form dipped and she could only manage a fourth-placed finish in the world championship 100m final, although she did secure a silver medal with the 4x100m relay team.
The following season, Fraser-Pryce was back, and back with a vengeance. She successfully defended her 100m Olympic crown, the first woman to do so since the USA's Gail Devers in 1996, and added two more silver medals in the 200m and 4x100m. 2012 was also the year she became the fourth fastest woman in history when she clocked 10.70 seconds at the Jamaican Olympic trials.
There was more to come from the pocket rocket. Fraser-Pryce bagged three more gold medals at last year's world championships in the 100m, 200m and 4x100m relay. Such was her dominance that she won the 100m by a record margin of 0.22s from the second-place finisher. And just two months ago, competing in only her second indoor season, Fraser-Pryce added the world 60m indoor title to her achievements.
 "I sat in the room and I was like 'oh my gosh, how am I going to top this next year?' And immediately my mind takes me back to training, hard work, going in the gym, lifting. My husband (Jason Pryce) would always say, 'you never enjoy anything.' And it's true, I don't get a chance to enjoy because I'm working," Fraser-Pryce told the Trinidad Express after her historic medal haul at the 2013 world championships.
Jamaican journalist Andre Lowe, who has covered athletics for over a decade, sheds light on the key to Fraser-Pryce's success: "I think it comes down to where she is coming from; growing up in one of the region's toughest garrisons [in Kingston, Jamaica] and not wanting to lose what she has worked so hard for," he tells Women Who Like Sport. "Shelly was never the favourite in the early days and that low expectancy and under-dog story fed her enthusiasm and drive. Plus she has an incredible work ethic and has learnt to trust her coach."
Stephen Francis has coached Fraser-Pryce as part of the world renown MVP Track Club since her early days as a professional athlete, and Lowe believes he has shaped her career: "Certainly from a technical perspective, he is the sole factor behind her accomplishments on the track," he says. "He understands her background and seems to have a relationship with her that mirrors that of an uncle. This also helped in the development of her confidence levels over the years."
Off the track Fraser-Pryce strives to improve the lives of people on the island of Jamaica. In regards to opening a hair salon in Kingston, she told the Trinidad Express: "There are lots of young ladies and young men in Jamaica who leave school with degrees and they're sitting at home. But if I can create a business so that other persons can get employment, then I think it goes somewhere." The 2013 World Athlete of the Year also set-up the Pocket Rocket Foundation to support young Jamaican student athletes (one of whom is Kimone Shaw who is tipped for big things). Last year, Fraser-Pryce shed light on the dire situation for Jamaica's young athletes:
Fraser-Pryce's sprinting CV is incredible. So too is her social work away from athletics. It's disappointing that she isn't more celebrated around the globe. "She is a massive star in Jamaica and the Caribbean, but you get the impression that her brand and profile is not as huge beyond those borders," Lowe tells Women Who Like Sport. "Only Usain Bolt's accomplishments have bettered hers since 2008 and, notwithstanding his world records, her profile is dwarfed by his. It's perhaps further demonstration that female athletes across all sports sometimes don't get their due when compared to their male counterparts."
The 27-year-old will compete in her first Commonwealth Games this summer and is surely set for more glory as the most decorated sprinter in the competition. Then, she wants to race at the 2016 Olympics. Imagine: yet another Olympic gold medal to add to her ever-growing collection. Surely then Fraser-Pryce's status as a living legend would be cemented?
Shelly-Ann Fraser-Pryce: a living legend?
Born:
27th December 1986
Hometown:
Kingston, Jamaica
Personal-bests:
60m: 6.98s. 100m: 10.70s. 200m: 22.09s
Nickname:
The pocket rocket
Club:
MVP Track Club (alongside Nesta Carter & Asafa Powell)
Coach:
Stephen 'Franno' Francis
Honours:
2008 & 2012 Olympic 100m champion; 2013 world 100m, 200m & 4x100m champion; 2013 World Athlete of the Year
Education:
Has a degree in childhood & adolescent development
Low point:
Banned for six months in 2010 for testing positive for Oxycodone
Owns:
A hair salon in Jamaica called 'Chic Hair JA' & set-up the Pocket Rocket Foundation to support young Jamaican student athletes
Up next?
The Diamond League; 2014 Commonwealth Games; 2016 Olympics
The future?
Wants to become a child psychologist