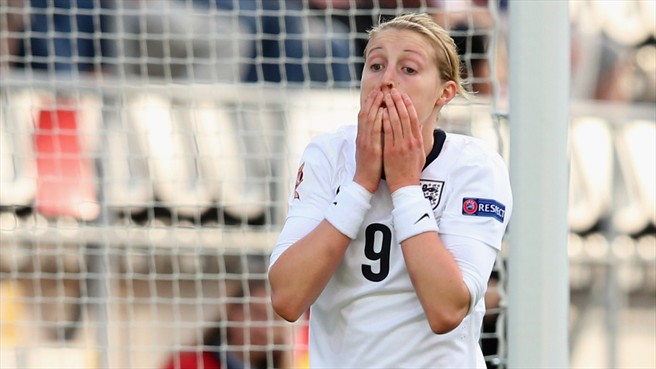 03 Jun

ACL injuries: Is there an epidemic in women's football?

I've played football since I was five years old and over the years I've seen a ridiculous number of women and girls sidelined for months, or even had their careers ended altogether, because of knee injuries. In particular, their anterior cruciate ligament (ACL). The ACL is a band of tissue that connects the femur (thigh) to the tibia (shin) at the patella (knee). It allows the lower leg to move back and forth, so without it you wouldn't be able sit down or stand up (well, at least not very successfully).

ACL injuries make up 40% of all sports injuries and surgery to reconstruct a torn ACL could mean anything from six months to over a year out. But there is no guarantee the surgery will allow you to play sport again, even after months of rehabilitation. Surprisingly, the majority of ACL injuries aren't through bone-crunching tackles but non-contact movement.

At the elite level, Women's Super League 1, a number of high-profile players have suffered ACL injuries. Notts County and England forward Ellen White is currently in rehabilitation, as are her teammates Rachel Unitt and Anna Green. Liverpool Ladies' Lucy Staniforth and Nicole Rolser are also coming back from ACL injuries. And lower down the women's football league structure in the Southern Premier League, my old club Charlton Athletic have six players recovering.

It got me wondering whether women footballers are more prone to ACL injuries and my research showed that they are. Much more. On average, sportswomen are up to eight times more likely to suffer this type of injury than their male counterparts. The reasons why, below, might just shock you.
Hormones
It's thought by some that sportswomen are more likely to injure their ACL while on their periods. Notts County's physio, Krista van Alten, explains to Women Who Like Sport: "During menstruation, ligaments become weaker due to hormonal changes. Also, many women experience feeling tired or unwell, so imagine playing sport on top of that." Research into the link between ACL problems and the menstruation cycle is not very thorough, although a few studies have proven that there is some correlation, including this from America, which found: 'A significantly greater number of ACL injuries occurred on days one and two of the menstrual cycle," when concentration levels of estrogen and progesterone hormones are at their lowest.
Anatomy
On the whole, more women – but obviously not all – tend to have a wider pelvis (hips) than men, which means a wider angle between the hips and the knee. This can put greater pressure on the ACL when taking into account all the jumping, twisting and sharp changes in direction required in football. On the other hand, because sportsmen tend to have a more linear body shape, they are more prone to groin injuries.
Pitches
Many teams in the winter leagues have to compete with men's teams for pitches to play and train on, and often come bottom of the pecking order. So players don't always play on a consistent surface. Players' muscles could get used to the hardness and bounce of a particular playing surface and then might not readjust sufficiently when the player changes surfaces. Also, there has long been suspicions that artificial 3G (third generation) pitches, being used more and more in the UK at the grassroots level and by women's teams, can increase player injury. That said, grass playing surfaces can also be dangerous, especially in wet conditions says van Alten: "A pitch too soft can increase the risk of injury due to studs getting stuck [in the turf] whilst the body is rotating."
Previous
"A previous injury increases your risk of another injury," says van Alten. "Every surgery makes a joint weaker. But on the flip side, I know a lot of women athletes in different sports who are fine playing for years after their surgery. It's all about rehab and possible complications." Which leads on to the final point…
Money
If a player doesn't have access to the right advice before, during and after an ACL injury, recovery time and the risk of injuring the knee again is greatly increased. "Women have less funding than men meaning they don't get the full medical support – strength and conditioning, nutrition, therapy," says van Alten. "We have players who work besides playing football, so being tired makes women footballers more prone to injury than their male colleagues. Men are also fully paid and guided throughout their career."
Can the risk of injury be reduced?
Identifying women footballers as more prone to ACL injuries is an important first step in prevention. Physios can then ensure training is adapted to their needs accordingly. Women can also be screened to determine the likelihood of injury. "By doing physical tests pre, during and post-season, we are able to tell whether they are at greater risk," says van Alten. "We also give the players workout programs to improve functional strength in their hamstrings and glute muscles as well as their quadriceps and core." Notts County players Ellen White, Rachel Unitt and Anna Green are lucky to be in such good hands. Van Alten has tailored their rehab programs individually. "Every person, athlete or not, will rehab differently," van Alten continues. "It's dependent on any possible complications and how the body reacts to treatment. It also depends on surgery and how tightly the ACL is reconstructed or how much knee extension the player has." But some factors are out of the physios' hands: "Our international players travel a lot to and from games all over the world, which means they are tired [physically and mentally]. When we get them back from the summer break we need to be sure that we don't overload them," van Alten explains.
It now makes sense why I have seen so many women and girl footballers dealing with ACL problems. I think awareness is key – how many sportswomen know they are at a greater risk of injury? And do they know how to reduce the danger of injury? It's vital that sportswomen have access to the necessary injury and rehab information to give themselves the best possible chance of enjoying a long and successful career.
Have you ever injured your ACL? Do you think the injury could have been prevented? Let me know in the comments below.