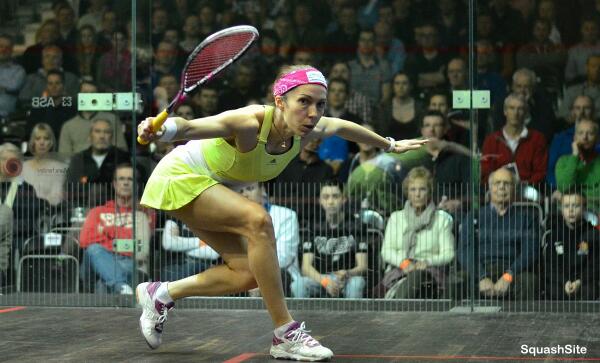 13 May

How is Madeline Perry still one of the world's best squash players at 37?

Squash is one of the most physically demanding sports on the planet. The sheer pace and intensity of it calls for ridiculous levels of muscle endurance and fitness levels similar to the Duracell bunny.

These attributes supposedly diminish as you age. Your fitness wanes, your muscle mass shrinks and your agility wobbles. But not for Northern Ireland's world number nine Madeline Perry, who is the oldest woman to ever occupy a place in the top 10 of the squash world rankings. The 37-year-old, who begins her quest for more silverware in the prestigious British Open today, told Women Who Like Sport: "I feel physically better than ever!" And results in the past year prove that. The Banbridge, County Down native won two titles in 2013, the Irish Open and Texas Open, and reached the latter stages of many of the events she entered. Perry also won a record 14th Ireland National Championship. This year, she reached the final of the British National Championships. Retirement could be a long way off, then. "I've always said when I stopped improving I would stop playing, but the results I have had in recent months and my performances have shown me there is definitely a little bit more there," Perry insists. But how is it that Perry has defied the odds and continued to improve with age? The rest of the women in the world's top 10 are at least seven years her junior so what's her secret?
Im delighted to be officially selected to represent Northern Ireland at the commonwealth Games in Glasgow. My 5th consecutive games #proud

— Madeline Perry (@MadelinePerry77) April 18, 2014
Although introduced to the sport aged 11, Perry didn't become a professional player until 22, which saved her body from the brutal demands of squash as she was growing up. "I didn't train a lot as a kid and I played a lot of other sports at school too," Perry explains. "I went to University in Belfast [graduating with a BSc in geography] and enjoyed university life for a few years, and only after that when I turned pro did I start to train properly." As she's got older Perry has had to adapt her approach to training with coach Marcus Berrett to ensure longevity: "My training has changed a bit in that I try to spend less time on-court, as playing squash is probably the hardest on our bodies. I don't often hit [practice on-court] twice in one day anymore. I also don't need the the huge training time I used to as I now have a very good fitness and strength base. My recovery has improved a lot and I now spend a lot more time stretching. I have been very organised following a regular strength and conditioning programme as well as using physiotherapy regularly to maintain my body."
It might sound like a chore to some, continually adapting training methods to the needs of your body, fine-tuning your every movement to stay fit and healthy, continuously assessing your performance to pick out ways to improve. But Perry, who has won 12 titles during her professional career and who will be representing Northern Ireland in a fifth straight Commonwealth Games this summer, wouldn't have it any other way. "I love the game, I love the training and I love travelling and meeting new people," she says. Even after she woke up in hospital one day with life-threatening brain and head injuries following a violent mugging in 2007, Perry was still keen to get back on court as soon as possible. When she returned a few months later she found her fitness and concentration levels lacking. For a year she had to play catch-up until her body and mind felt comfortable on the court again.
"Obviously squash players don't always gain the recognition they deserve but it's a really great lifestyle and I'd take my job any day over an office job," Perry says. Indeed, media coverage of the sport's women players, as in the majority of other sports, is lacking when compared to coverage of the male players. As too is prize money. The US Open last October was the first time ever in squash women were awarded the same prize money as men, which Perry describes as a "big breakthrough." Not even this week's famed British Open, often referred to as the 'Wimbledon of squash', can claim that. Although organisers did raise the women's purse this year when a handful of players demanded equality.
Perry begins her British Open campaign today against Nicolette Fernandes of Guyana. The world's best flock to this event, including England's world number two Laura Massaro, who Perry could meet at the quarter-final stage. But the Irish woman's aim is simple, "One match at a time. One thing experience teaches you is never look too far into the draw!"
Age ain't nuttin' but a number: other veteran sportswomen
Emma Stepto – Currently Britain's third-ranked marathon runner, aged 44.
Mary King – 52-year-old British eventer who has competed in six Olympic Games.
María Luisa Calle – 45-year-old Columbian cyclist who won the country's first ever Olympic cycling medal with bronze in 2004.
Merlene Ottey – Jamaican-born Slovenian sprinter with a record nine Olympic medals to her name, aged 54.
Olga Kotelko – Meet the 95-year-old athletics champion.
Thanks to Hilary Evans aka @OlympicStatman for his help in finding the veteran sportswomen.