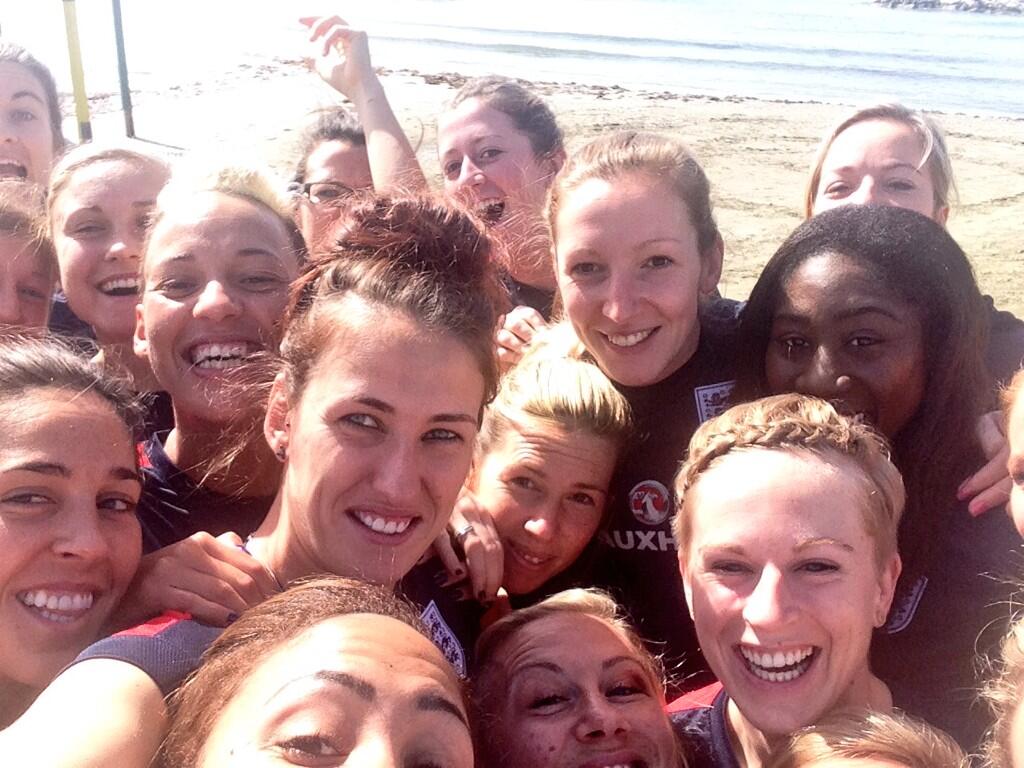 10 Mar

England women's football team: behind-the-scenes at the Cyprus Cup

"Wow, how'd you get that big black eye?" I asked Laura Bassett. "Didn't you hear?" she replied. "A massive fight!" She started laughing. She had actually headbutted Natasha Dowie, accidentally, in training. Bassett's little quip pretty much sums up what I've seen from the England players on this annual trip to the Cyprus Cup: they're friendly, relaxed and seem to be in high spirits. Often when a new boss comes in it brings a breath of fresh air to the team and since Mark Sampson has taken over I can definitely sense a change to the previous five years I've been reporting on them.

From the three games I've seen thus far in Cyprus, the rise in morale is having a positive effect on England's performances on the pitch. The Lionesses are playing with an attacking mindset and are creating a lot of chances, even if they're not quite as clinical as they could be. Positive play is a fundamental part of Sampson's new approach for the squad. Some of the players have told me that he focuses more on attacking the opposition rather than sitting back and defending. During the Finland game, which the Lionesses won 3-0, when England didn't have the ball I saw Sampson screaming from his technical area: "Press, press, press!" When England lose the ball he wants them to re-gain possession as quickly as possible. The result is an England side who have scored seven goals in three games but could have netted many more. The players have mentioned that Sampson has an eye for detail, often splitting up the squad into small groups during training to focus on specific aspects of their game (watch how Sampson works his magic in a training session here – 4:45min video). It made sense, then when I bumped into him on the morning after the Italy game, which England won 2-0, and he revealed he'd been up until late watching the match back. Twice. England went into their final group game against Canada the underdogs but you'd never have known it in the first half – they were full of vigour, outplaying Canada (3:33min video) and enjoying the majority of possession. So they deserved to go in at the interval 2-0 up. In the second half, England were far more lacklustre and unable to find the target, so clearly the blueprint is still being developed.
Saturday training session plan for Cyprus good start to on pitch work. More progress today #TeamEngland #Lionesses pic.twitter.com/d1zKIB4Rsv

— Mark Sampson (@Mark_Sampson) March 2, 2014
Off-the-pitch, Sampson is just as enthusiastic about implementing change. He wants the players to be what he calls, "good people": happy, honest and to treat people with respect. In return he has asked the players what they need from him and his coaching staff to keep them happy and playing well, so good team morale is clearly a big part of his philosophy. He says happy players are better players, able to give that extra 10%, which will help when they play strong opposition. The team still have a set daily schedule but are given more freedom to spend their free time as they wish. Players have been given specific roles on this trip – Jill Scott and Lianne Sanderson look after the team's social schedule, whilst Alex Scott is team DJ. I recently joined the team on a yoga session on the beach (1:42min video), led by Jill and Karen Carney, during some downtime and even the staff joined in. Interestingly, the players have their England jerseys presented to them rather than them being hung up in the dressing room. It's Sampson's way of reminding them of the pride they should take in being England internationals.
In my years covering the team, England have had to deal with very little negative media coverage (sometimes any coverage at all is a struggle). Women footballers in the UK are not so popular that their private lives are splashed over the sports pages of national newspapers. But the reaction to Toni Duggan's recent blacking up stunt shows that the players are under closer scrutiny than ever before. Duggan decided to dress as Whoopi Goldberg's nun character from Sister Act for a team fancy dress party whilst in Cyprus. Duggan and many other players posted photos of her outfit on their social media accounts and she was forced to apologise. England bosses, the FA, released a statement to say they were "dealing with the matter internally." The criticism of the team after their poor performance at last summer's Euros hinted at the players growing in profile. This latest negative press proved it. It makes sense, then, that the team has recently got a full-time, dedicated media manager to handle their coverage.
Overall, it's been a pleasure to report on the team this week in what is a very exciting time for the players. They're playing well and most importantly seem to be enjoying themselves again. This is the first time I have met Sampson and, apart from his incredibly firm handshake, it was great to see a manager so full of enthusiasm. I get the sense he's genuinely having fun in his new role and enjoying implementing a new philosophy. It's early days, of course, and he admits there is much work to do. Canada was England's biggest test since Sampson took over and they gave a very good account of themselves. France in the final on Wednesday will be an even bigger step up. Les Bleus are six places above them in the world rankings at fifth and comfortably beat England 3-0 the last time they played. But from what I've seen of the players on this trip, they won't be focussing on the size of the challenge, they'll be calculating how best to overcome it.