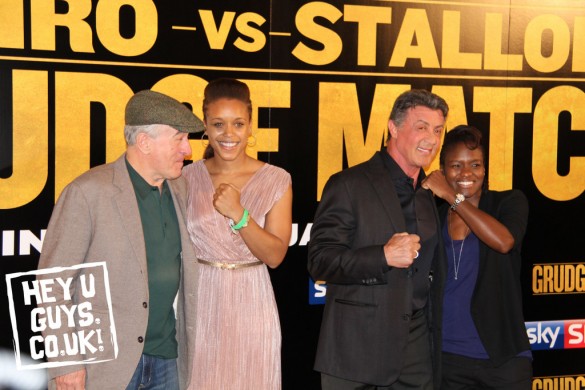 11 Feb

Is 2014 the year of women's boxing?

With a successful Olympic debut under its belt, women's boxing is growing fast. More women in the UK are boxing than ever before, with a 50% increase in participation since before London 2012 in England alone. The world's first ever Olympic boxing champion Nicola Adams is a household name, which proves just how big 2012 and 2013 were for the sport.

But 2014 could be even more spectacular. There are three major events for Britain's women to contend this year – the Commonwealth Games, making it's women's boxing debut, the European Championships and the World Championships. And there will be plenty of storylines for the media to follow: can flyweight Adams get her hands on the one gold medal missing from her prodigious collection: a world gold? Will the Commonwealth Games stage a repeat of the epic battle between Ireland's Katie Taylor, enjoying a record eighth year as world number one, and Brit Natasha Jonas? What a year ahead.

On the professional side of the sport, three-time world boxing champion Ana Julaton's straight-talking blog announces 2014 is the year for women's boxing to take centre-stage on the global sporting scene. America's first boxer of Filipino descent to win the Women's WBO Super Bantamweight and IBA Super Bantamweight titles also questions why other American women boxers aren't doing more to promote their sport:
My point is, I'm disgusted and weary about the whole "Boxing is sexist" bull. It's 2014 and it's time for a positive change. It's about being a winner, not a whiner.

"I mean, how many of the American women boxers actually met with top-tier promoters and TV executives to talk about their career?  I did."
Interestingly, boxing great Sugar Ray Leonard seems to agree it's time for change in women's boxing.
#Follow @anajulaton @kwildwildwest @MiaStJohnBoxer for the female perspective. #womensboxing

— Lennox Lewis (@LennoxLewis) January 18, 2014
Professional world bantumweight champion Kaliesha 'Wild Wild' West has always been pretty vocal on the sexism and negative opinions that blight the sport. In a documentary with Transworld Sport, (13:02 video), she challenges:
"We train just as many hours as the men. We spar just as hard as the men. We work out just as consistent as they do. We deserve the same opportunities as they do, regardless of what anyone's personal opinion is."
This is the same fighter who posted a must-watch video online passionately questioning a system where Floyd Mayweather Jnr can spend $50,000 on strippers but nothing on world champion women boxers: "I work hard. But because I'm a woman no-one knows and I don't get paid." West has just recently removed the video from public viewing after reports Mayweather has signed a woman boxer to his promotional company.
Just followed @FloydMayweather …. Always been a fan of his craft, but now a fan of his persona for signing his first female boxer!!!

— Kaliesha West (@kwildwildwest) February 5, 2014
In an effort to improve conditions for professional women boxers, the World Boxing Council will hold an all-women convention for the first time in June.
Former super-middleweight champion turned tv host Laila Ali discusses her career, love  for running running, and her famous father: "I never ran with my dad. He was old-school. He had a whole different idea of training. He ran in steel-toed boots!" (includes 02:44min video).
Amateur boxer, activist and mother Mary Kom wants to help women stay safe on the streets of India. The five-time world champion is developing a text message service, a self-defence mobile app and will be running a women's "fight club." She tells Wired:
"The women are learning techniques like the one-two step, so I think that will be helpful in the future. And if they keep training that will really help them protect themselves."
The Guardian highlight Mary Kom's incredible life and her increased fame since the 2012 Olympics.
Delve into the world of British lightweight Natasha Jonas who has made a name for herself at the famous Rotunda Amateur Boxing Club in Liverpool, despite the male-dominated environment. Courtesy of Trans World Sport (08:12 video)
I spoke to Jonas last year about the special relationship she shares with her football star sister Nikita Parris (includes 03:25min video).
Olympic champion. Four-time world champion. Five-time European champion. Arguably the world's most successful pound-for-pound amateur women's boxer. But Irish fighter Katie Taylor has never had a state-of-the art gym in which to train. Until now. Take a sneak-peak inside new-look Bray Boxing Club (02:17 min video).
Great spar with @KatieTaylor today! Real fast pace! #boxing pic.twitter.com/FRtofCUtRX

— Paddy Barnes (@paddyb_ireland) February 10, 2014
Hopefully the new gym will help Katie Taylor in her quest for a sixth straight European lightweight title in May. She'll also be enlisting a couple of Olympic medal-winning Irishmen to boost her preparation.
The all-conquering Nicola Adams, who will also be at the forthcoming European Championships in May, admits her fear of spiders to The Guardian: "If I see one that's too big to get under a glass, there will be big problems."
Sometimes the best feeling in the world is taking your bra off….. #Freedom

— Nicola Adams MBE (@NicolaAdams2012) January 28, 2014
The Leeds flyweight also reveals to The Independent her go-to meals in the lead-up to making history at the 2012 Olympics. Since her historic success, Adams has found time to give back. Watch her give a masterclass (03:34min video).
A British prospect to keep an eye on – 15-year-old Ebonie Jones. She's already won a Junior World Championship bronze medal and travels to the GB Boxing base in Sheffield to spar with Nicola Adams: "I did all right, but I think she was going easy on me," Jones recalls. The teenager explains how she balances boxing with schoolwork (02:18min video).
British lightweight Chantelle Cameron fought to top of the podium at the recent Nations Cup.
Life as a Ugandan women boxer – a vibrant photo gallery from ESPN W.
Sometimes the biggest insult we female fighters get is the amount of money they offer us for a fight. #boxing #struggle #women #equality

— Ava Knight (@AvaKnightBoxing) February 5, 2014
The Women Boxing Archive Network give tips on how to make it as a pro – it's all about management, media and matchmaking, they insist.
Maybe Scotland's Sarah Knight (nee Alderman) has been reading their advice, as the European Union bronze medallist makes her pro debut next month.
Meanwhile in Scotland, one of the country's top women's amateur boxers has taken her case of sexual discrimination against Boxing Scotland to the Equality and Human Rights Commission. The article reads:
In July 2012 a group of female boxers signed a letter of complaint to sportscotland.

They claimed there was a lack of financial investment in them by Boxing Scotland, no regular training camps or tournaments and that there were instances of derogatory language being used to describe some female boxers.

The organisation says all athletes are supported fairly and equally according to their ability and level regardless of sex, race or any other such factor.
Above, Olympic middleweight champion Claressa Shields (right) posts a photo to her Instagram account of her winning her first senior USA National title last month. The 18-year-old has also been speaking about why Black History Month is important to her and offers advice on how young people can achieve their dreams (05:24min video).
One of the coaches behind Claressa Shields' Olympic success was Gloria Peeks, who talks to the Women Boxing Archive Network about blazing a trail in the sport for the past 36 years.
World governing body AIBA has set out qualification guidelines (skip to page six) for the 2016 Olympics in Brazil. Women boxers will have two attempts to earn their place – the World Championships in February 2016 and a continental event just after. Judging by this it doesn't seem there will be any more weight categories added to the Olympic programme than the three already assigned to women.
The incredible tale of pioneering women's boxer Diane "Dynamite" Clark. From light heavyweight champion to homeless and living in a women's shelter:
Her life spiralled out of control into a web of drugs. On a drug binge, she eventually moved out of her parents' house and ended up on the streets of New York, living in abandoned buildings.

"I remember lying on the floor and covering myself with a dirty blanket," she recalled. "There were rats running all over the floor. They were bigger than cats. I could feel the rats running over my legs, but I never got bit."
A poignant video (03:29min) depicts the hardships Clark battled through.
An access-all-areas documentary has been released on the rivalry between Canada's top middleweights Ariane Fortin and Mary Spence in their pursuit of making the 2012 Olympic team. Long-time friends Fortin and Spence become frenemies when they realise only one of them can represent Canada at the Games. The trailer is riveting enough, watch the full film via iTunes and other digital platforms. Great that it was directed by two women from a boxing background Lorraine Price and Juliet Lammers. Price told Filmmaker Magazine:
"The most difficult challenge was shooting with Ariane and Mary moments before their deciding bout in 2012. That was the fight that would determine the course of their lives, arguably the most important fight of their boxing careers. And neither Ariane or Mary were interested in having us and our crew around in the minutes before they stepped into the ring."
@AmandaCoulsonGB visits one of our female #BOX in mosques project. @Sport_England @SYSport #sportivate pic.twitter.com/gEvwLOmlsD

— Tom Gilbert (@Tommy1gilbert) February 3, 2014
Fiji and their women's boxing revival.
Meet Sweden's 33-year-old PhD chemistry-studying middleweight Anna Laurell who has come out of retirement as she still "dreams of an Olympic medal."
Sadly, it seems women's bouts will not be added to world amateur governing body AIBA's new Pro Boxing competition reports Sports News Ireland. President Dr Ching-Kuo Wu had hinted at introducing a tournament where women could fight on a professional basis whilst still being eligible for the Olympics, like their male counterparts, but a recent AIBA statement states it won't be happening, "for the time being."
Could we be about to see an international boxing hall of fame dedicated to women for the first time?
Do you think you could cut it as a coach? England Boxing are looking for people in the East Midlands.