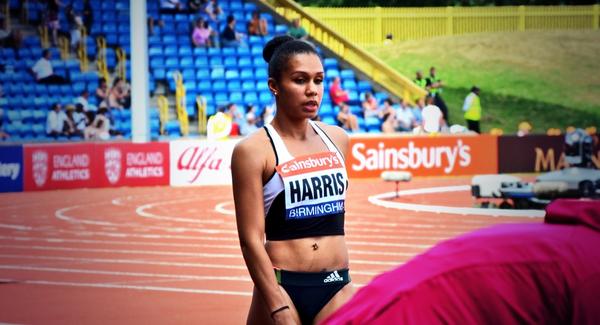 10 May

Amy Harris-Willock: The long jumper & beauty queen aiming for the 2016 Rio Olympics

Amy Harris-Willock's dream is simple – represent her country at the Olympic Games this summer: "If I made it, it would really top it off for me because it's been a hard journey."

That's an understatement. Amy has faced career threatening injuries for much of her senior career, had to work alongside training to fund herself, and even switched nationality – from Great Britain to Antigua and Barbuda. Not to mention her longest ever jump is 20cm off the mark needed to qualify for the Rio Games.

And so Amy's dream will take a near-miraculous effort to materialise. Not that she views it that way. Amy is an athlete and encapsulates the drive and focus athletes are notorious for. "You have to believe in your talent," the 28-year-old tells me. "I think about the good times and what I want to achieve."

Amy has represented the caribbean islands of Antigua and Barbuda since 2014, but is still very much a part of the British athletics scene she once lit up as a junior. She's trained by British Athletics' national jumps coach Aston Moore (who coached Philips Idowu to Commonwealth, European and world titles) and is based at their high performance centre in Birmingham, where she's from.

Amy enjoyed a lot of success in her younger years. Once she realised cross country wasn't for her aged 11 ("It was really cold and wet, and I remember crying my eyes out saying: 'I can't do this anymore!'), she became a long jumper and never looked back. She was 16 years old when she became Commonwealth Youth Games champion for Britain. A year later in 2005, she won a silver medal at the European Junior Championship.

But one injury-ravenged season after another followed, and she was in danger of being yet another teenage athlete who's talent fails to transition into adulthood. For the past eight years, Amy has had to continually battle with her body giving up on her. A slipped disc in 2008, a damaged leg tendon in 2012, a torn achilles in 2014. Just last year she had a problem with her foot which wiped out the whole of the 2015 season. Perhaps, just maybe, athletics wasn't for her?

"Kelly Sotherton (Britain's Olympic heptathlon bronze medallist and mentor) sat down with me and said: 'You need to make a decision.' We came to the conclusion that I needed to stop because I was doing more harm than good. I burst into tears. My season was over and I had to accept it.
When times are tough keep the bigger picture in mind.#NeverGiveUp

— Amy Harris-Willock (@Amz_GBharris) November 12, 2015
"I decided to have a normal summer. I was still doing my rehab but I wasn't flying away to compete." That's when Amy swapped her running spikes for high heels. A friend saw an advert for the Miss Caribbean UK beauty paegent in a newspaper and it provided the perfect distraction from her athletics woes.
She only went and won the whole thing. Representing Antigua, Amy was crowned Miss Caribbean UK last year. It became more than a beauty contest to detract from her beleaguered body. It became a journey of self-discovery. "Because I'm still learning about the Caribbean and the culture it was nice to be a part of," she says. "It was a chance to be accepted and feel like I belong."
Amy was born of a white English mother and a black Antiguan father. Her mixed heritage made her childhood tough. "Race has always been an issue for me because I grew up only knowing one side of my family – I didn't know my black side. I grew up in a white neighbourhood so I wasn't really around black people. I remember when I was at school being called different things," she explains.
It wasn't until her early twenties when she moved to America to study and train at Florida State University that she delved into her roots. She had never met her dad, and didn't know which caribbean island he was from. "America is a lot different to England," she says. "You get that divide between black and white and I was quite shocked. They'd be different sororities and fraternities and they wouldn't be integrated. It was upsetting that you couldn't just integrate and be one."
"When I was in America I tried to identify with myself. And that's when I reached out to try and find my dad, then decided to compete for Antigua."
Amy is the national long jump record holder in Antigua and competed for them at the 2014 Commonwealth Games. Although injury ruined her preparations and she was unable to record any legitimate jumps, the experience should serve her well in Rio: "I wasn't in the best shape because of injury but it was a really nice moment for me. I've struggled a lot with injury in my senior career but [qualifying for the event] made me feel I'm good enough to make the standard at international level," she says.
Amy is training six days a week, sometimes twice a day, alongside working as a sales assistant at Nike, to reach the qualifying mark for her first Olympic Games. The longest jump of her career came five years ago where she leapt to 6.50m. To line up at Rio, Amy needs 6.70m, "and to not be injured" she laughs.
"I don't feel my previous jumping is a real representation of how far I can jump [because of the multitude of injuries I've had ]. And when you've got good coaches around you that believe in you, if makes you feel better."
This is likely to be Amy's last chance to realise her Olympic dream. Throughout the years of injuries, the heartache, the tears, one thing has remained constant – that insatiable drive and focus. "My coach once asked me: 'If you decided to stop, would it make you feel better?' I said to him: 'no – it would probably make me feel worse!'" You can almost hear her clench her teeth as she declares: "I don't think I've achieved everything I want to achieve and the Olympics mean a lot to me. I have unfinished business."