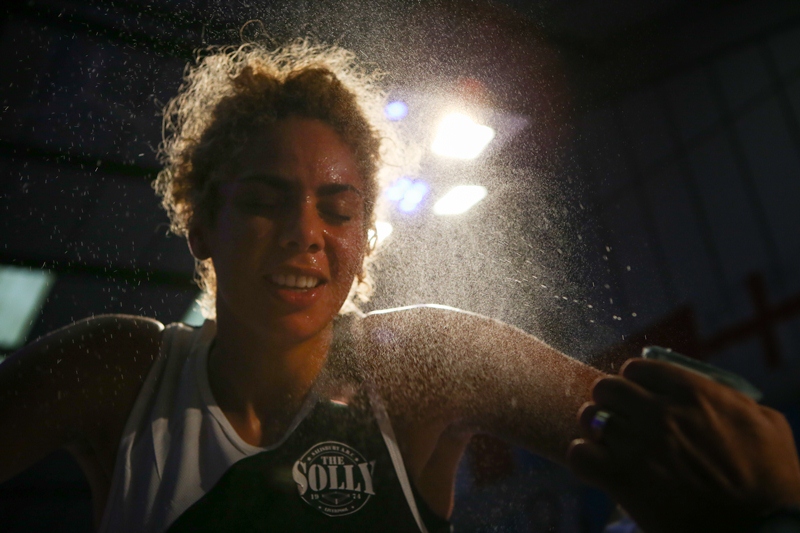 27 May

Boxer Carly Ogogo: from novice to national champion in less than two years

Being a boxer is hard enough without having the weight of expectation from a successful family name too. But Carly Ogogo, who only took up the sport properly less than two years ago, is already on her way to emulating the success of her big brother and Olympic bronze medallist Anthony. The 21-year-old light-heavyweight won one of the most prestigious amateur tournaments in the country: the Amateur Boxing Association England Championship in her first year as a boxer and has started 2014 with five wins from five bouts. Understandably she's grabbed the attention of GB Boxing, who invite her to their world-class facilities every month in Sheffield to train alongside the likes of Olympic champion Nicola Adams.

Sport has always been a big part of Carly's life – she used to swim and play netball and played football for Norwich City Ladies for much of her childhood. The Lowestoft native balances her fledgling boxing career with studying Theatre Studies with Drama and Sport Studies at Liverpool Hope University: "It's a weird degree, I'm not gonna get a job from it," she laughs.

She was recently selected for her first international boxing tournament – the European Women's Boxing Championships in Romania, which start on Saturday. From complete beginner to representing her country on the world stage in under two years; meet Carly Ogogo.
Why did you start boxing?
I watched Anthony at the 2012 Olympics along with some of the women's boxing and was amazed by the talent that was showcased there. My mum was very ill at the time [after suffering a life-threatening brain aneurysm] and I felt that I needed to focus on something whilst she recovered. When I returned to my uni in Liverpool, I went along to Salisbury ABC Boxing Gym and in no time I was stood in the ring ready to fight.
How did it feel winning the 81kg ABA title back in December considering you're so new to the sport?
I didn't really know what I was getting myself in to. I understood it was a competition but I never comprehended the significance of it. After winning my first and second bout I soon realised that the ABAs are a great platform for being recognised by England and Great Britain scouts, which was my fuel for success. I really craved that title, worked hard, and I'm proud to say I achieved it with the help of my incredible coaches at Salisbury and fabulous family and friends that encouraged me.
Do you think your long-term future is in boxing?
I certainly hope so. Boxing is addictive and I'm hooked. I love every aspect of it; the early morning runs, the sessions that really make you sweat and, believe it or not, getting in the ring knowing I might get punched in the face but doing all I can to ensure that does not happen. Even when I'm past it, I'll be contributing to the sport and hopefully help future generations achieve their dreams.
How have your friends reacted to you being a woman boxer?
My friends didn't believe that I boxed as I'm not an aggressive person and I'm a big softy. I had to invite them to one of my bouts for them to see for themselves. Even when I greeted them upon their arrival they thought I had stitched them up and would be featuring as a ring girl. They were surprised by my split personality.
Are you considering coming down in weight from 81kg to 75kg so you can compete at the 2016 Olympics?
I box at both 75kg and 81kg. I like boxing at 81kg as I feel more comfortable and healthy at that weight – I'm a big girl at 6ft. 75kg is fine and I could make it, but what can I say I like sweets! But I'd do anything for the chance to represent GB at the Olympics. I'm very disappointed that they haven't introduced more weights as women's boxing at London 2012 proved we are of equal standards. Two words: Nicola Adams!
To top the weekend off I saw my little sister win the ABA championships today. She's better than me #Pow very proud pic.twitter.com/3REjlNB6yg

— Anthony Ogogo (@AnthonyOgogo) December 15, 2013
Because of your surname, do you feel pressure to emulate Anthony's success?
Completely. Anthony never came home empty-handed from a competition and was always on the podium. If I am half as successful as Anthony has been I will be very proud of myself. He's offered me a lot of advice, but simply: box well.
Do you two ever spar?
Yes, when I would follow him down the gym when I was younger. However, my Mum soon put a stop to that when we both got a bit carried away and he hit me on the nose and made me cry. He felt so bad. So naturally like any other little sister, when we got home I told my Mum who then told Anthony off.
How much of an inspiration has he been during your (short!) boxing career?
Anthony is a huge inspiration to me. Boxing is incredibly difficult, yet adding injury and family illness [both of which Anthony had to deal with in the run-up to the London Olympics before he won his bronze medal] into the mix amplifies it immensely. I'm honoured to call Anthony my brother and I hope I can reach the same boxing ability as him one day.
What's it been like watching him go from being unknown to being recognised in the street?
It's bizarre. He'll always be my protective big brother from little old Lowestoft. What's more strange was when I went round a friend's house and she had half-naked posters of my brother on her walls before she knew we were related.
What's it like training alongside Olympic champion Nicola Adams and Natasha Jonas?
I am in awe of their greatness; their technique, speed, fitness. Not to mention they are both lovely people. I always watch them in the gym and try stealing their moves! They've got such natural flare and talent.
The GB Boxing facilities are world class, what's it like being in that environment?
It's incredible. GB has produced some phenomenal athletes which proves the facilities are working. Training in a great environment encourages you to box great.
The forthcoming Euros will be your first international tournament – how are you feeling about it?
I'm feeling confident and ready. I'm going to there to box well and achieve. Getting a medal is possible.