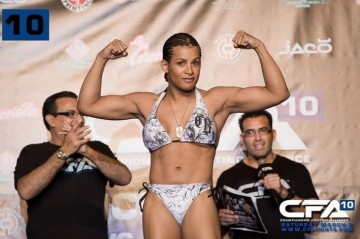 08 Mar

International Women's Day: Black sportswomen you need to know about

When I was playing football as a youngster, I wouldn't say I had sporting role models but I definitely admired some people's sporting prowess. Former Manchester United number seven Eric Cantona, for example. He was so exciting to watch. I had my celebration prepared for the day I scored a goal like his sublime lob against Sunderland in 1996. But of all the sportspeople I respected as a child, none of them were women. Let alone black women. And that's not to say there weren't inspirational black sportswomen out there – I just didn't know about them. They weren't on the TV or in magazines, they were invisible to me. A few years on as a teenager I can remember Denise Lewis' amazing achievements in the heptathlon and her winning Olympic gold in 2000. But that's about as far as my knowledge of black sportswomen stretched.

Now I'm an adult I'm still struggling to name sportswomen of colour that I regularly see in the media. Sport's volatile relationship with gender means that sportswomen are paid less, covered less and have less chance of securing sponsorship. In the UK, just 5% of media coverage is dedicated to women's sport. Add race to the equation and you have a group who are near-enough ignored and forgotten about. Indeed, research by the Women's Sports Foundation in the United States found: "Girls of colour appear to be one of the more disadvantaged populations since they are affected by both gender and racial inequities in sport."

Every now and again there is someone who defies their gender and race to reach superstardom. Britain's Olympic heptathlon champion Jessica Ennis-Hill, for example. In the US, there is Serena Williams (even still, it could be argued that their treatment at the hands of the media and the public is not as positive as it would be if they were white – but that's for another blog post!). Their sporting ability is recognised globally and they are household names. But what of the extraordinary sportswomen of colour who came before them, that broke down barriers yet were hardly celebrated? Those that allowed the current generation to come through into the spotlight. I present a handful of black sportswomen you should know about:
Tessa Sanderson | British javelin thrower 
Tessa Sanderson is the first and only British woman to win an Olympic gold medal in a throwing event, taking gold in the javelin in 1984. It also made her Britain's first black woman Olympic champion. During a flourishing career, Sanderson won three Commonwealth Games titles, broke the British record 10 times and was awarded a CBE for her services to sport in 2004. She was also a decent heptathlete as a young woman before focusing on javelin. Born in Jamaica, Sanderson moved to Wolverhampton in England as a young girl and often had to fight off racial abuse: "I had people spit on me in school and was called a golliwog and a n****r." Interestingly the author of the article questions why Sanderson doesn't have a higher public and media profile considering her great success. Throughout her career, much was made of her hostile rivalry with British teammate Fatima Whitbread, which Sanderson describes as, "one of the toughest I've ever known in track and field." But despite the negativity, Sanderson's achievements were undeniable. Her hard work continues today with her charity The Tessa Sanderson Foundation, which identifies and supports up and coming sporting talent.
Sanderson is married to Britain's 1990 Commonwealth judo champion and three-time Olympian Densign White. Dame Kelly Holmes and Olympic gold medallist Christine Ohuruogu were among her bridesmaids.
Wilma Rudolph | US sprinter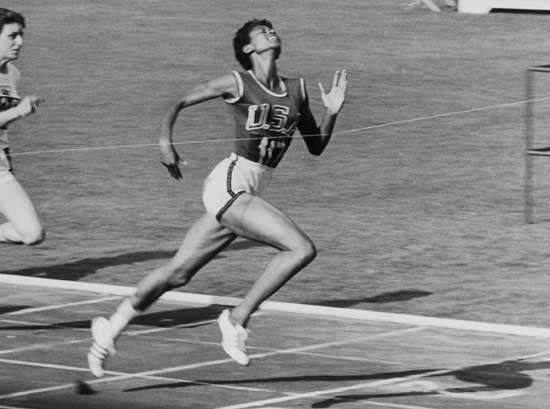 It's incredible to believe Wilma Rudolph was unable to walk by herself up until eight years old yet became a pioneering athlete. Even more so because she grew up in 1940s America when people of colour couldn't be taught in the same schools, use the same entrances into buildings or ride the same public transport as their white counterparts. Ruldolph was born in Tennesse, USA in 1940. Premature and often ill as a child, she had to deal with paralysis in her left leg until her teenage years. But she was not to be stopped and competed in her first Olympic Games at just 16 years old in 1956, winning a bronze medal in the 4x100m relay as the youngest member of the US team. Four years later her career really blossomed. The 1960 Olympics in Rome was the first year a Games was televised internationally, so when Rudolph became triple Olympic champion in the 100m, 200m and 400m – the first American woman to do so in a single Games – she become the face of women's sprinting for a few years. Although it seems Rudolph's achievements were recognised and celebrated, in the immediate aftermath of the Olympics at least, she still had to contend with racial insensitivity from some of the media who labelled her the 'black gazelle' and the 'black pearl.' Off the track, she is said to have protested against the racist segregation laws in her home state of Tennessee. Unbelievably, her local town wanted to hold an Olympic celebration parade in her honour yet it was to be a segregated event! After Rudolph refused to attend, it became one of her local town's first integrated events. Rudolph retired not long after the Games to focus on coaching and inspiring the next generation of athletes. She passed away in 1994.
Ruldolph wrote an autobiography in 1977 called 'Wilma', which was later made into a TV film.
Ora Washington | US tennis & basketball player

Ora Washington was born in 1899 in Virginia but, as part of the Great Migration in the US where large numbers of the black community in the rural south moved north in search of work and, hopefully, a reprieve from racist Jim Crow laws, she grew up in Philadelphia. Sports in the US at that time were segregated, which severely limited Washington's opponent pool and profile. But her talent was unmistakable. Between 1929-1937, Washington dominated the all-black American Tennis Association, winning eight singles titles and spending many years undefeated. It's little wonder she was known as the 'Queen of tennis' in her neighbourhood. Sadly, she was never given the opportunity to play her white counterparts, most notably Helen Wills Moody who was the tennis star at the time. As Washington continued to set the benchmark in women's tennis, she began to build a basketball career that was just as dominant. She enjoyed success with the Philadelphia Tribune Girls during the 1930s and reinforced her image as an all-conquering sportswoman. She undoubtedly paved the way for the pioneers that followed her – Althea Gibson, who was the first black player, man or woman, to compete in then all-white US Law Tennis Association events (and incidentally, the first black woman to join the Ladies Professional Golf Association (LPGA)), and Serena Williams, who is often referred to as the best tennis player of her generation.
Washington was inducted into the tennis Black Hall of Fame in 1976, having passed away five years earlier.
Perpetua Nkwocha | Nigerian footballer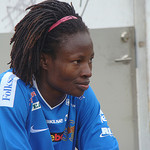 Perpetua Nkwocha is one of them biggest names in African women's football. She was named the African Woman Footballer of the Year in 2004, 2005, 2010 and 2011, and has captained Nigeria's Super Falcons in three Olympic Games and two world championships. Born in 1976 in Nigeria, she recently revealed that as a young girl her dad tried to stop her from playing football. But she was determined to carry on and has won over 80 caps for her country and is their all-time leading scorer with 41 goals. 2004 was a prolific year in Nkwocha's career as she almost singlehandedly won Nigeria the African Women's Championship, scoring four goals to help demolish Cameroon 5-0. She also became perhaps the only African woman to feature on Fifa's top 10 players of the year. At 38, Nkwocha's tireless commitment to the sport continues with professional Swedish side Sunnanå SK. Her talent has brought a much needed spotlight on women's football on the African continent and her path to success will serve as a blueprint for the young Nigerian girls coming up behind her. Retirement doesn't seem to be on her mind so I wouldn't be surprised to see her at her third World Cup next year should Nigeria qualify.
Nkwocha has a boys' team named after her in her hometown of Ngwor Okpala, who she sponsors.
Vonetta Flowers | US bobsledder

These days it is common for sprinters to switch from athletics to bobsled. Mainly due to Vonetta Flowers, who was the first black athlete to become a Winter Olympic champion. Her story is all the more compelling because it was purely by chance that she had the opportunity to try the sport. She didn't first get onto the ice until she was 26 after many difficult years trying to qualify for the US athletics team. In 2000 her husband spotted a flyer calling for athletes to try out for the US bobsled team. Flowers reluctantly went along and less than two months later she was part of the team and laying the foundations for her gold medal at the 2002 Winter Games. Flowers' success confirmed sprinters penchant for becoming bobsledders. And so began a major drive to recruit athletes into the sport. The likes of summer Olympic 4x100m champion Lauryn Williams, college shot putter and sprinter Aja Evans, former track athlete Jazmine Fenlator and Olympic hurdler Lolo Jones have all represented the US in bobsled in recent years. Meanwhile, former hurdler Judith Vis competed for the Netherlands at the 2014 Winter Olympics in Russia.
 Flowers' 2002 gold medal at the Salt Lake Games was the US bobsled team's first for 46 years.
Fallon Fox | US mixed martial arts fighter

After making her amateur debut in mixed martial arts (MMA) in June 2011, Fallon Fox became a pro less than a year later. After two fights, journalists started making enquiries and she was forced to come out as the first transgender fighter in MMA. Cue wild media panic over Fox's medical records, her licence to fight and the morality of allowing a transgender woman to fight other women. Whilst people in the sport spew their transphobic vitriol at her, the self-professed 'Queen of Swords' continues to compete in the Championship Fighting Alliance based in America. Her courage has shone a light on governing bodies' transgender policies, or lack thereof, which will hopefully better support transgender sportspeople in the future. In a recent letter to the media, Fox wrote:
"Much like my black ancestors who were of mixed race and could pass as white, I hid my trans status (unless confronted on it). Much like my ancestors I've had to deal with society telling me what restroom I could or could not use or what spaces I could not occupy.  many trans people have to be pestered and questioned about their past when they obviously want to not talk about it? How many trans people have to be driven to suicide or endure incredible amounts of mental torment because you just couldn't help yourselves?"
Fallon joined the US Navy in 1996 and served for four years.