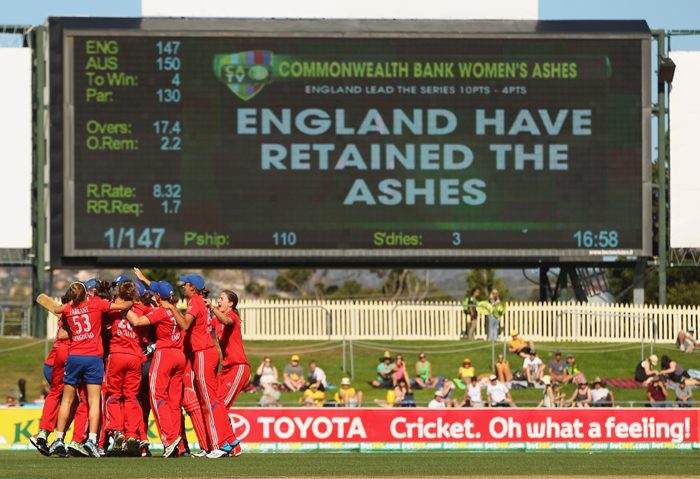 03 Feb

Will England's women cricketers be given the celebration they deserve?

England have retained the Ashes*. Captain Charlotte Edwards, who has won the Ashes five times already, ranked the victory in Australia as one of the most rewarding. The women's Ashes differs from the men's in that it is a multi-format series made up of three One-Day Internationals, three Twenty20s and a Test match. England actually only won three of the seven games compared to Australia's four but still managed to win the series overall. What makes the win even more remarkable is that it's a second consecutive women's Ashes victory and only the second time the teams have played this series format.

Cue the celebrations, right? Well, I'll be interested to see what public celebrations and displays are held to mark their momentous achievement. Will local councils offer any sort of parade? Will they be publicly congratulated by governing body The England and Wales Cricket Board? And will the media take the opportunity to promote these incredible women as role models?

*If you're unfamiliar with the series, here's a quick-fire 101-second video that explains the long-held Ashes tradition between England and Australia.
disappointing day today but…we got we we came for!!! #womensashes2014 #winners pic.twitter.com/fZsHAhnURn

— Charlotte Edwards (@Lottie2323) February 2, 2014
Australia didn't make it easy for England, but a captain's display in the first Twenty20 match from Charlotte Edwards, where she hit 92 not out, catapulted the visitors to victory. The visitors ended up losing the final two T20 games of the series, but Edwards insists the team still has much to be proud of.
And it seems the players are proud of their captain. England spin bowler Holly Colvin praises Charlotte Edward's leadership:
"She has captained the side for more than seven years and is still on top of her game as well as being the best captain in women's cricket.

"I have never been captained by someone who is so passionate about cricket. She lives, breathes and sleeps the game and wears her heart on her sleeve."
Ashes selfie!!!!!!! pic.twitter.com/dMP0AuZxny

— Georgia Elwiss (@Gelwiss) February 2, 2014
Behind-the-scenes of the England camp in Australia, as detailed by player Jenny Gunn, including everything from class wars to captain Charlotte Edwards favourite song. And get to know the team a little better – I spent some time with the women ahead of last year's World Cup (where they placed third). Find out who admitted that the S Club 7 album was the first they ever bought (03:24min video).
Meanwhile, while England are off celebrating, Australia captain Meg Lanning has questioned how points are awarded in the newly-revised women's Ashes series.
Despite their women's Ashes loss it's not all doom and gloom for Australia, as bosses are considering setting up a women's Big Bash League, the male version of which has proved a financial and commercial success for Australian domestic Twenty20 cricket.
Another exciting development is the creation of the Women's International Cricket League. In short, a six-team league of franchises comprising the best players in the world alongside players from emerging cricketing nations. According to their website, the WICL not only want to give top players the chance to earn a living from playing cricket, but they want to breakdown the barriers that prevent women from succeeding in sport. The Women's Cricket Blog sums up, rather nicely, the impact the league could have if it gets up and running. The league has been co-founded by celebrated Australian cricketer Lisa Sthalekar and she says she's hopeful of making big changes in women's cricket globally (09:34min audio). An exciting project to keep an eye on.
In terms of media coverage this women's Ashes series was pretty well followed, taking into account Sky's televised games and the BBC's radio commentary. But cricket writer Sudatta Mukherjee raises a very important subject when she discusses gender discrimination in the sport when it comes to the media:
In the last ten List A matches Mithali Raj has played, she has scored three centuries and was unbeaten twice. She has been playing for India for the last 15 years and is one of the most famous and best women cricketers in the world. Yet a less experienced male cricketer gets much more attention than her, on any given day.
Historian Raf Nicholson has also noticed inequality in the sport and wonders why journalists insist on asking women cricketers to compare their performances to their males counterparts:
"If the default is for them to continually have to hold up their own achievements against their male counterparts, doesn't it devalue them somewhat? And if they always go into an Ashes series being expected to win like the men have just done, or expected to not lose as badly as the men have just done, doesn't that put them under incredible amounts of misplaced pressure?"
No fireworks or ticker tape or champagne for the England women as they lift the Ashes trophy. Too much mess before the men's game perhaps?

— AlisonMitchell (@AlisonMitchell) February 2, 2014
But perhaps times are changing in cricket? Girls' participation at the grassroots level in England is on the increase, reports ESPNcricinfo. Interestingly, England governing body the ECB noticed spikes in women's participation after the women's Ashes win in 2005, the two World Cup victories in 2009 and after last year's emphatic women's Ashes success. But the challenge comes when the girls get older:
"The finance around the women's game is very unequal compared to the men's," explains [Matt] Theedom [Cricket Development Manager for Devon]. "In Devon, at U-18 level, girls and boys are resourced exactly the same – so if you're a county age group U-15 boy or girl, you get the same kit, same access to the same coaches and the same quality of pitches. Because of this, the girls' game is quickly catching up with the boys', which is fantastic. When it comes to the senior women though, it is not."

Devon's senior women have to pay for their own kit and accommodation if they want to play for their county, and the team are considering fund-raising activities such as bag-packing at supermarkets in order to fund their next tour.
The ECB have written extensively on the rise of women's cricket in the country in this hefty document. Since it took over governance in 1998 it states, "the number of cricket clubs offering women and/or girls' cricket has increased by 507% from 93 to more than 600" [page 15].
BBC Sport put it a bit more succinctly in this article where they outline the importance of grassroots initiative Chance To Shine, which sees England players coaching cricket in primary and secondary schools up and down the country. Captain Charlotte Edwards and Danielle Hazell teach the children of a Warwickshire school some silky skills. (03:07min video)
Just as important as the next generation coming up in the sport are the women that paved the way for them. An insightful look at the career of the late Australian legend Betty Wilson, "Her preparation was so meticulous she even starched the brim of her hat, so it wouldn't distract her by flapping." And fellow countrywoman Belinda Clark who was the first player in One-Day International history to hit a double century – yes, before the likes of Sachin Tendulkar.
Scottish cricketer Fiona Urquhart is spending the winter months playing and coaching in Australia and having a blast, as she blogs from Down Under.
Further afield in Tanzania, cricket is being used to help women from poorer backgrounds (includes 03:53min video). The cricket association helps with accommodation and school fees to ensure the women are able to find employment. Says Tanzania Cricket Association administrator Kazim Nasser:
"When girls reached 13-14, they start struggling in life because many of the women come from single parent families. It becomes a challenge, because the parent will force the girls to find alternative employment. We have spent five years with them so we try and do what is best for them. We train them so they get employment instead of going to work as house maids."
Uganda, fresh from a second-place finish in the Africa Senior Women's Twenty20 Championship in December, have been awarded by international governing body the International Cricket Council with Best Women's Cricket Initiative in Africa.
The top eight teams in the world – Australia, West Indies, England, New Zealand, Sri Lanka, South Africa, India and Pakistan – will compete against each other in the International Women's Championship, starting this year, in the hope of automatically qualifying for the 2017 World Cup. World governing body the International Cricket Council say the tournament will be "a very positive step for the profile and competitiveness of women's cricket."